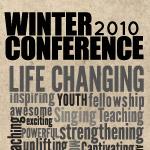 Winter Conference 2010
The Complete set of services from the 13th Annual Winter Conference. We trust that the services will be a blessing to you and your family. God bless you for your faithful support.
Dr. Larry Brown  "Don't Go Back"
Dr. Larry Brown  "My Life Story"
Dr. Greg Lentz   "The Consequences of Going Halfway"
Dr. Tommy Steele  "You Can't Always Go Back, But You Can Always Come Back"
Dr. Chris Haizlip  "The Fullness of Joy"

Updating...