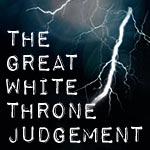 The Great White Throne Judgement
This message is a prophetical study of the coming events on the Christian calendar with a focus on the Great White Throne Judgment.  The scripture is found in Revelation 20 where Dr. Lentz preaches a powerful message on salvation.
Conviction from the Holy Spirit set in under the tent and 30 precious souls came to the saving knowledge of Christ. We trust this message will be a blessing to your heart.
This message was preached Saturday, September 25, 2010 at the Henry County C.Y.F. under an old gospel tent.

Updating...