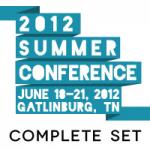 2012 Summer Conference Set
The 2012 Summer Conference was unique in nearly every way.
Every message was a continuation of the service before as the youth
were challenged to stand up and make their life count for Christ in 2012.
We are truly humbled by God's faithfulness at each CYF Youth Conference.
We would like to thank every Church, Pastor, Youth Worker, Staff Worker,
and Supporter that makes this meeting possible. To Jesus be all the glory!

Updating...